Apr 7–Jun 30, 2023
Curated by Jeanette Bisschops & featuring video by Monica Mirabile
KAJE Window in Tribeca
all things under dog where two things are always true (2022)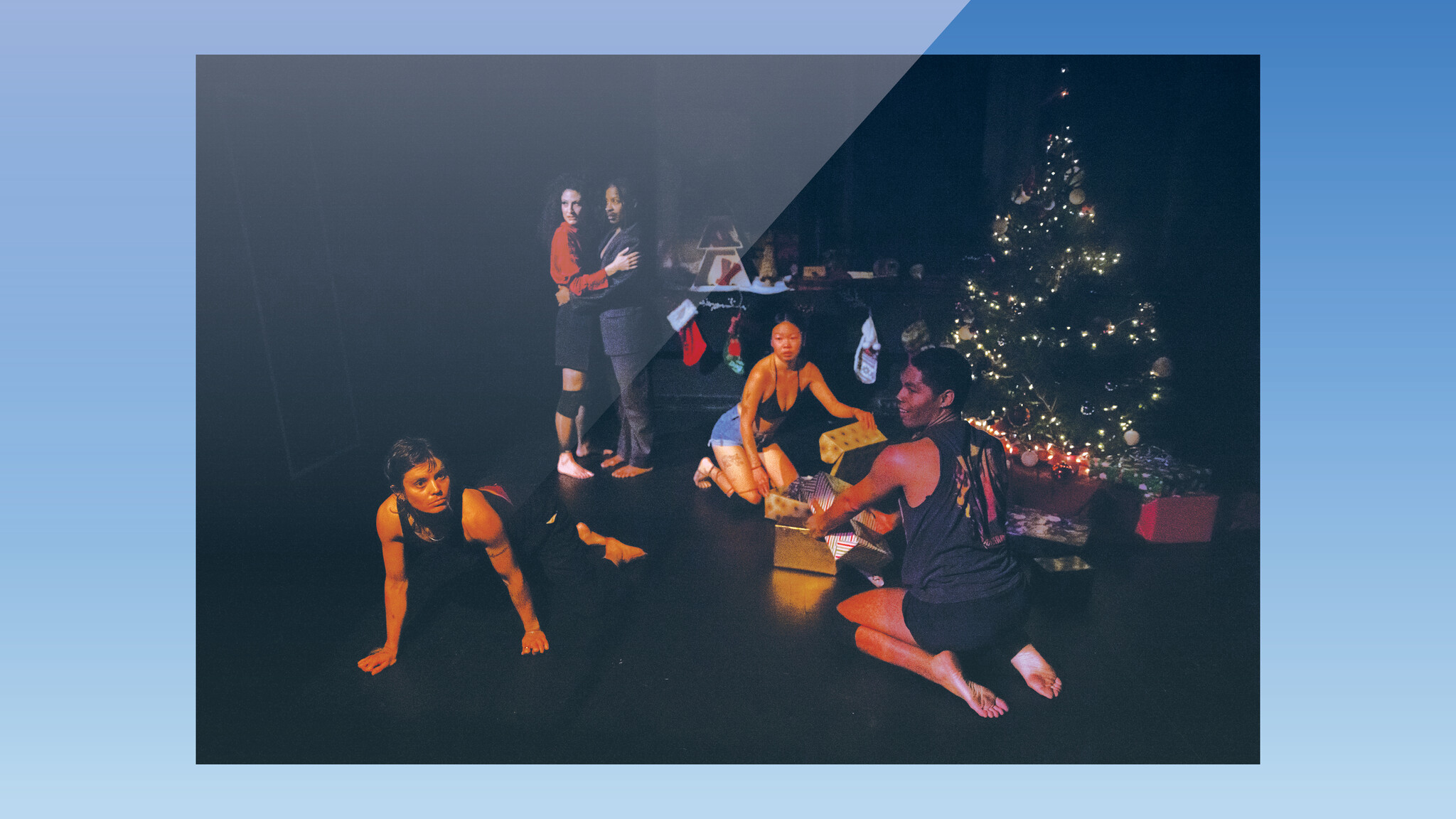 We are excited to ring in our new limb in Tribeca - a KAJE Window located at 184 Franklin Street.
The first installment is curated by Jeanette Bisschops and features video by Monica Mirabile, on view beginning Friday, April 7th.
The presentation of the video documentation of all things under dog, where two things are always true (2022), is part of Jeanette Bisschops' ongoing research on the multiple roles and lives of performance. It aims to provoke an opening to questions about the meaning of works that hinge on time and space. What does it mean to bring a remnant of an intimate live event to a window space looking out on a public sidewalk? Can we as the viewer, access and invoke the remembering of a live event, even if we were not physically present when it took place?
Acknowledging the intimate ties between performative actions and the political, this presentation also considers the unequal access to space, visibility and power. Connecting to the therapeutic qualities of Mirabile's practice, who has been an integral part of Performance Space's reimagination of its curatorial and directorial power structure over the last couple of years, the work in its current presentation threads together dialogues about access and power in the city and the art world. By creating multiple overlapping scenes in space and time in her live performance, Mirabile rejects a hierarchical viewing experience that is now translated to a public video presentation installed in a domestic windowsill overlooking Franklin Street. Deepening her audience's engagement with the work, its experience destabilizes formal categories of actor and spectator. Where is the stage, and who is playing a part?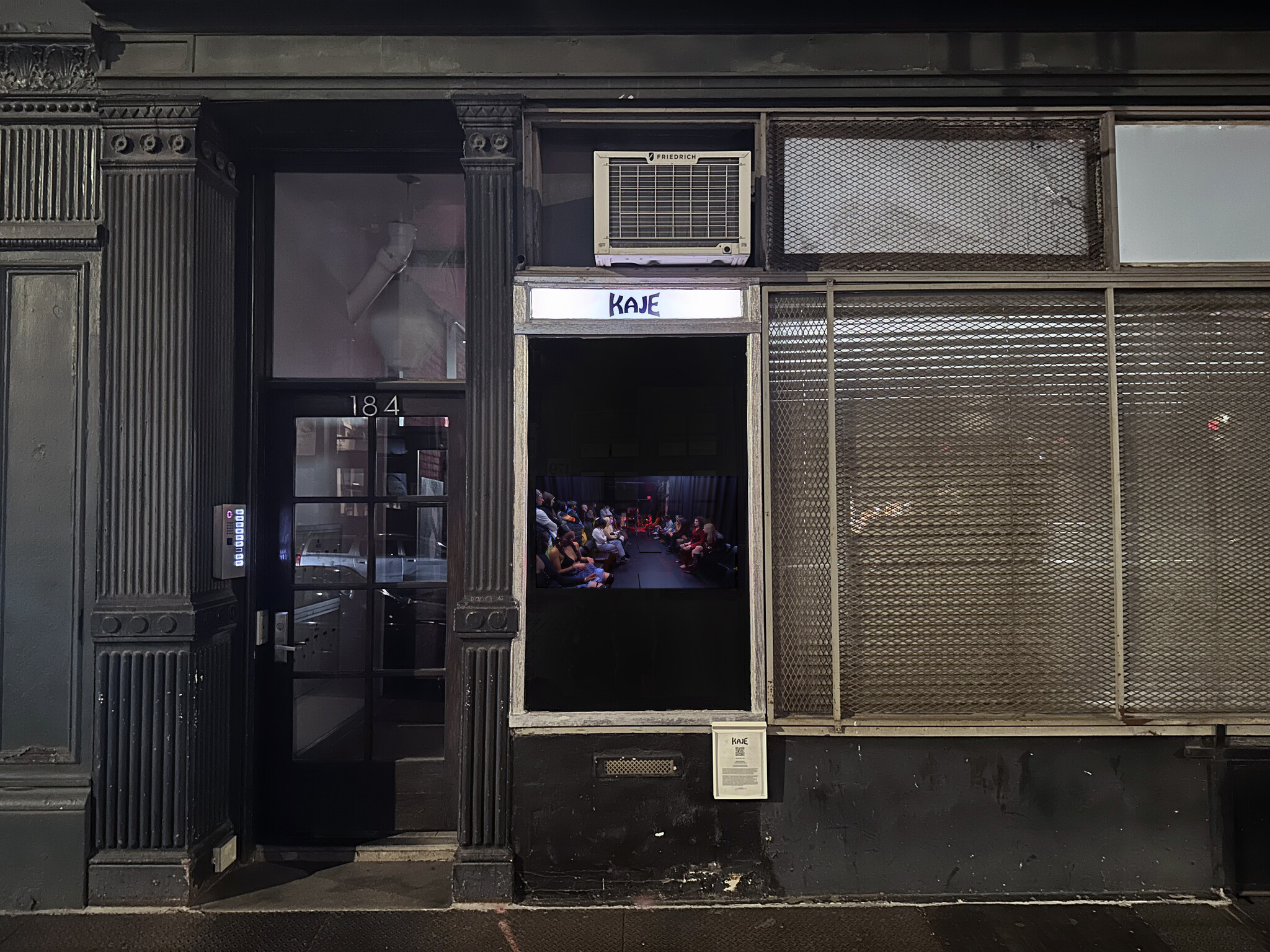 all things under dog where two things are always true (2022) 
by Monica Mirabile
'All things under dog, where two things are always true', Monica Mirabile's 11th choreographed work is the product of a year-long process of fostering and intertwining 5 specific performers as an outlaw ecosystem rising from a lack of resources to cultivate a support structure. While Mirabile began the process with a multifaceted narrative around the social/familial mafia formation, the piece mutated through somatically digging into where the performers held information within movement and through a technique Mirabile calls 'unblocking' - externalizing into choreography. The weight-bearing movement central to the piece mirrors the self-creating family. Within this therapeutic architecture, Mirabile builds out a collapsing of time from the combined personal histories of the performers and herself—working through questions of grief, trauma, support, and ultimately resilience in family systems and the society they are influenced by. all things under dog travels continuously through symbolic representations of a house—with five distinct rooms dividing The Keith Haring Theatre—and a black hole. Heightening the intimacy of the work, the audience, viewing the piece in small groups, move through the rooms with the performance.
 + + + + 
Performed in collaboration with Joy Norton, Amanda Wallace, Kate Williams, Maxi Hawkeye Canion, and Reed Rushes
Additional performers:
Moira Spahic, El Roy Red, Renata Lima, Francesca Facciola, Jack Meriwether, River Ramirez, Sophia Park, Sarah Kinlaw, kellian Delice, Jes Nelson
Original score by Aaron David Ross, including music by Eartheater
Lighting design by Sarai Frazier 
Technical direction by Heidi Lorenz 
Writing assistance by Moira Spahic
Filmed by Howard Silver
Photo by Maria Baranova
Commissioned and Performed at Performance Space New York
Monica Mirabile (B. Clearwater, Florida in 1988) is an artist living in NYC. Her choreographic productions explore performance as behavior, focusing on absorption of information, processing and regulating the nervous system within the slow motion coup of a collapsing state. Often accompanied by audio composition & scenographic installation; she elaborates on how authority, power and support operate inside the body. Her work is deeply collaborative and aims to stimulate an intensely felt living system.

Mirabile is also a painter and one half of the performance duo Fluct. She has performed and exhibited at the Guggenheim, Performance Space New York, The Broad Museum, PS1, The Queens Museum, Miami Art Basel, ICA Philly and HAU Berlin, among others. Her performance video work, 'Alienated Labor' was acquired into The Whitney's permanent collection in 2017. She has worked with musicians including SOPHIE, Dev Hynes, Eartheater, Yaeji, Mitski & Maggie Rogers among others. Mirabile founded and runs Otion Front Studio (est. 2014), a performance community rehearsal space in Brooklyn, New York and currently organizes the Open Movement program at Performance Space New York in the East Village.
Jeanette Bisschops is an independent Dutch curator, art critic and writer residing in New York. Interested in expanding and challenging dominant narratives within the art world, her current work researches how artists' practices are challenging our social imagination. She was Curatorial Fellow at the New Museum, New York between 2019 and 2022 and served as Curatorial Assistant for Time-Based Media at the Stedelijk Museum Amsterdam between 2016-2019. She holds a Master's in Psychology from Maastricht University and a Master's in Art History from the University of Amsterdam.