Sep 3–Sep 16, 2023
Mok Chiu-yi & Li Ching, Simon Liu, Jennie MaryTai Liu, Ellen Pau, Wong Ping, Joshua Gen Solondz, Yan Wai Yin Winnie
Events as part of Let's Talk: Life As Usual (group screening organized by Simon Liu) + projector performance and live electronic music set between Simon Liu and Joshua Gen Solondz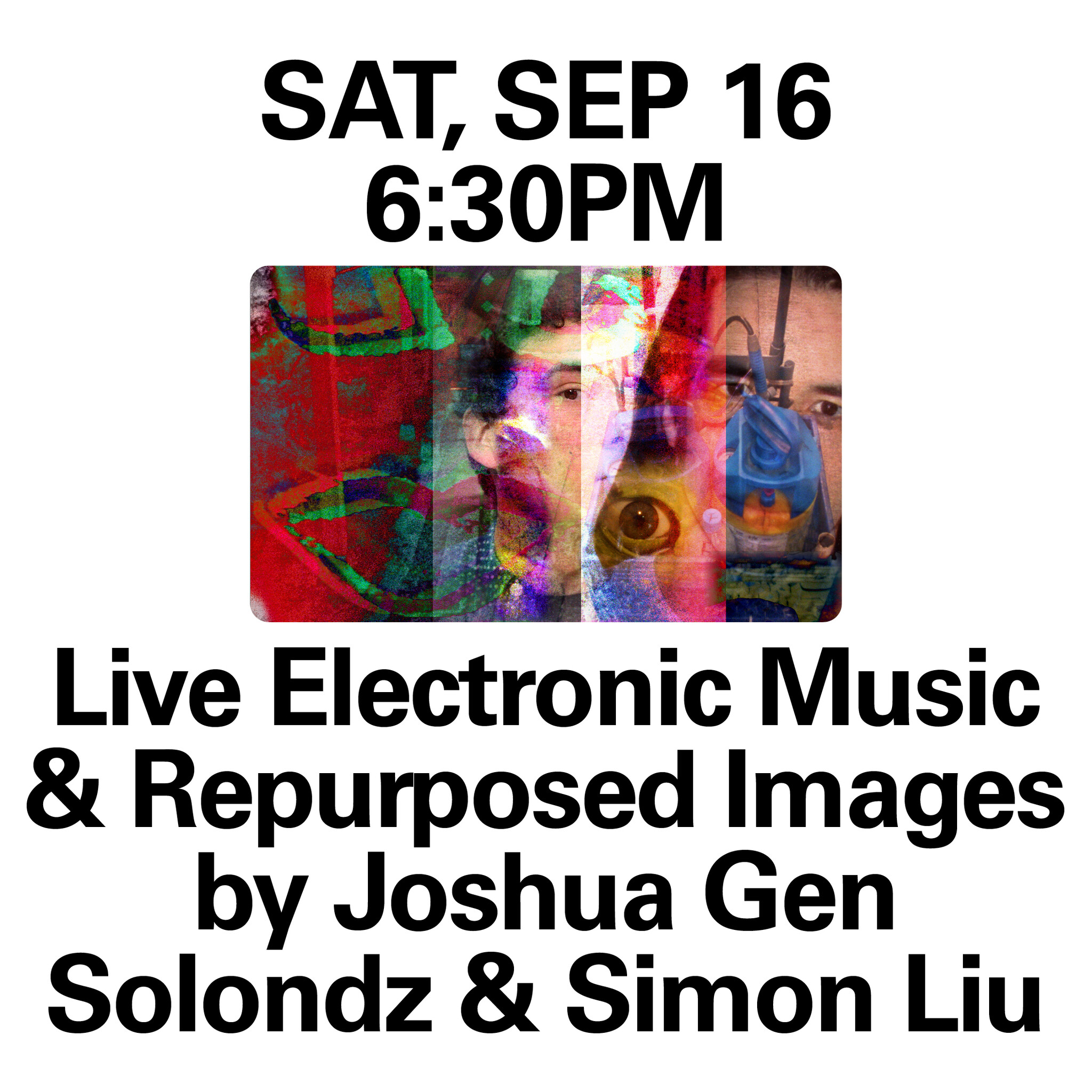 The first performance, starting at 6:30pm on September 16th, is a site specific adaptation of Liu's 16mm expanded cinema performances, Highview and Harbour City (most recently performed in MoMA's Modern Mondays series), which will be elaborated upon to activate the architecture of the Let's Talk installation. Following the projector performance will be a collaboration between Simon Liu and Joshua Gen Solondz, featuring live electronic music and projections of repurposed images.  
Joshua Gen Solondz is an artist working in moving image, sound, and performance. He's screened in a variety of festivals including Images, Toronto International Film Festival, International Film Festival Rotterdam, Onion City, Black Maria, Portland International, Milwaukee Underground, CAAMFest, San Diego Asian Film Festival, Chicago Underground, Locarno, Mar del Plata, FIC Valdivia, Viennale, and New York Film Festival. He's also shown at venues such as REDCAT, Light Industry, UnionDocs, Harvard Film Archive, MoMA, DINCA, NYU, Red Room, ATA, AGX, and Black Hole Cinematheque.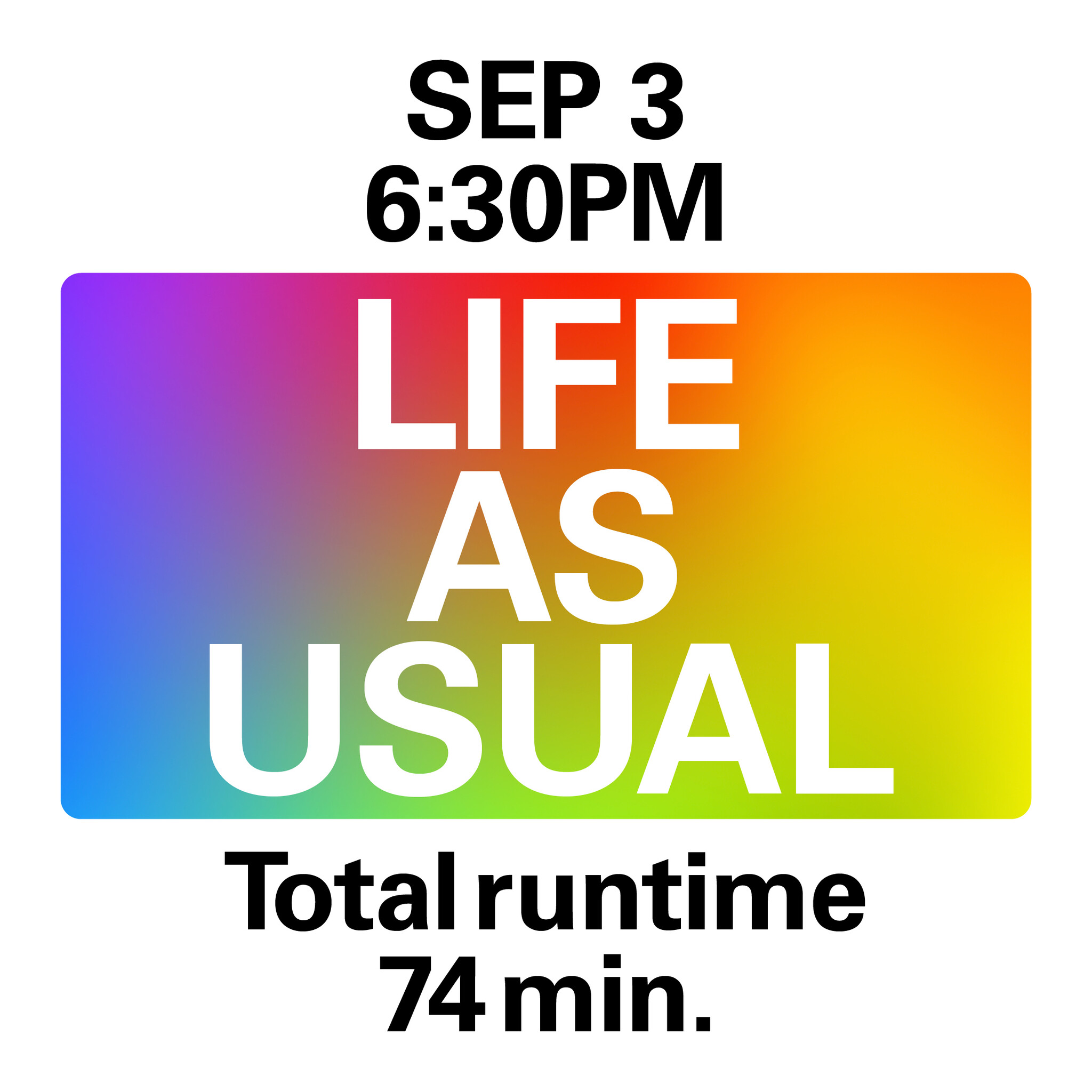 Featuring seven short films by Hong Kong artists spanning the last 45 years, Life as Usual surveys the often surreal and uncanny underbelly of life in the metropolis through gestures of disobedience, imaginary landscapes, and desires for an alternative future.  
PROGRAMME
Diversion by Ellen Pau - 6 min. / VHS / Hong Kong / 1990
Tugging Diary by Yan Wai Yin Winnie - 16 min. / HD / Hong Kong / 2021
Wong Ping's Fables 2 by Wong Ping - 14 min. / HD / Hong Kong / 2019
For Some Reasons by Ellen Pau - 7 min. / MiniDV / Hong Kong / 2003
-force- by Jennie MaryTai Liu & Simon Liu - 9 min. / 16mm to HD / Hong Kong / 2020
Letter to the Young Intellectuals of Hong Kong by Mok Chiu-yi & Li Ching - 15 min. / 35mm Cinemascope  to SD / Hong Kong / 1978
Song of the Goddess by Ellen Pau - 7 min. / Umatic & Hi-8 / Hong Kong / 1992
-
Diversion by Ellen Pau 
Produced one year after the June 4th, 1989 incident, Diversion focuses on the immigration flush in Hong Kong. The Victoria Harbor swimming contest scenes of the 1960s by the Hong Kong Government are returned as absurd metaphors and black humor. No special editing equipment is used. The overlaying of images is not done electronically, but produced by recapturing the reflected image from the television screen. By combining footage from various sources – government newsreels of the swimming contests, educational videos on swimming, performance video of the sequence of a burning newspaper goat-head floating down a stairwell – the video is a personal reflection of a collective memory.
日''''''';''''''' 記 Tugging Diary by Yan Wai Yin Winnie
Tugging Diary documents a footbridge in Hong Kong during the period of protest, rallies, and strikes. Both the internet and physical spaces act as critical communication platforms. Information circulates more widely and rapidly outside the mainstream media. These messages are continuously being altered, removed, renewed, or overlaid with other information.
Wong Ping's Fables 2 by Wong Ping
Hong Kong animator Wong Ping renders social dynamics and economic anxieties through intersecting moral tales of an anthropomorphized cow and three sibling rabbits. Something like Memphis Design as envisioned through a video game, this candy-colored continuation of the award-winning Wong Ping's Fables 1 builds upon the self-taught animator's bizarrely funny observations of contemporary society.
For Some Reasons by Ellen Pau
The video is the exploration of writing and drawing, a comparative study on image and text. It was commissioned by the Hong Kong Institute of Contemporary Culture for Video Essay-Works of a Cross-disciplinary Creative Project. For Some Reasons starts with the exploration of the figure of speech. Every Chinese character is a face; each face has a story. Put the faces together and you end up having another story. As a reaction to public demonstrations, the title of the work copies a phrase that has been deliberately used by Hong Kong government officials, when talking about the recently issued national security laws in China's Special Administrative Zone. The text of the story responds to the new controversially discussed Article 23, mixing with the hot topics of Hong Kong People. The pictures are made up of animated still frame pictures that resemble the Chinese still frame character.
-force- by Jennie MaryTai Liu & Simon Liu
Placid views merge with dizzying, semi-abstract digital animations; avatars in a parable about control. A mesmerizing, menacing  voiceover – part body politic regulator, part cyberpunk travel guide – promises order, accountability, and satisfaction, and threatens trouble, polarization, and tears. A fire has been started, movement has gone on to reach multiple points of no return.
Letter to the Young Intellectuals of Hong Kong by Mok Chiu-yi & Li Ching
Renowned for his theatre work, activism and as the founder of the influential left-wing magazine The 70s, Mok Chiu Yu is one of Hong Kong's defining iconoclasts. In the 1970s and 1980s Mok produced a highly original and unique body of film work, eschewing the production methodologies of the popular Hong Kong film industry. Addressed to Hong Kong's under-represented Left, his films cut and paste elements of industrial, personal and experimental film, resulting in highly original and invaluable records of anti-imperialist and intellectual movements in British-controlled Hong Kong. Letter to the Young Intellectuals of Hong Kong is a 35mm film that utilized and appropriated footage from a documentary Henry Moore exhibition in Hong Kong. Through over-dubbing, painting directly onto the film and other gestures, Mok turns the material into an incendiary address to Hong Kong's youth. Intercut with newly filmed material, the film also functions as a personal diary of Mok's political activity throughout the 1970s.
Song of the Goddess by Ellen Pau
The work pays tribute to the famous Cantonese Opera duo, Yam Kam-fai and Pak Suet-sin. Both women play the role of lovers, with Yam in male drag. The couple worked together on stage and in films. They were so popular that Yam was known as "The Silver Screen Lover." Both did not marry, and instead lived with each other for most of their lives. When Yam died in 1991, Pak arranged her funeral and wrote a banner saying "I would die a hundred times in bringing you back to me." In this video, their film, The Emperor Lee and their own real-life story are woven together to create a mosaic to tell the tale of dying a hundred times and forever, reality and illusion, past and present, parted and together.
Special thanks to Videotage HK, Timmy Chen, Chanel Kong, Eugenia Lai, and George Clark