Stand Up, Fall Down
Montez Press Radio
February 10, 2022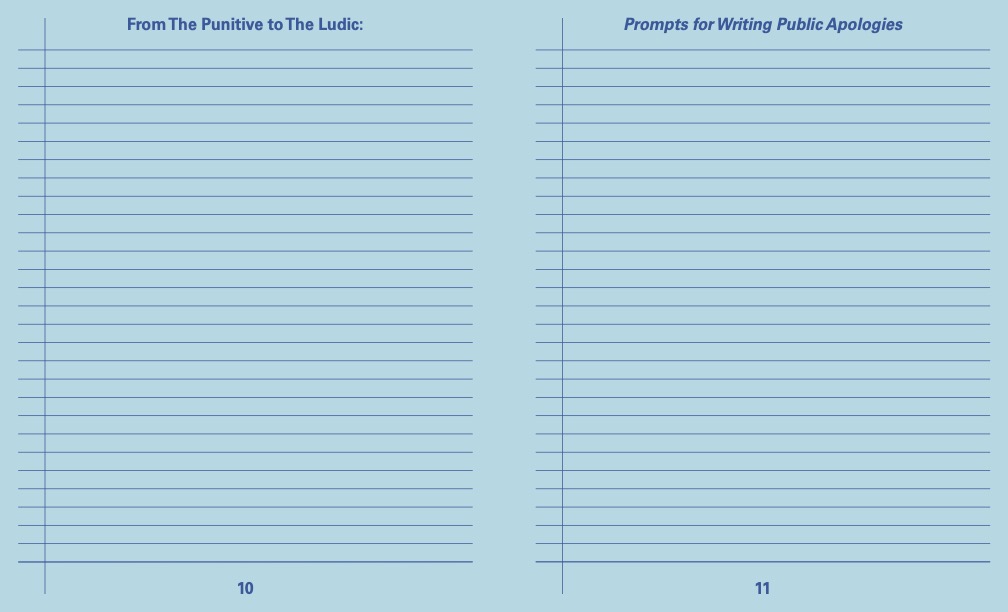 MONTEZ PRESS RADIO
Stand Up, Fall Down, a reading group
FEB 10—JUL 14, 2022
Looking at the legacy of humor in political art, transgression, and poor taste, each of the 11 Think Tank meetings will be divided into a discussion of texts and a writing workshop.
Over the course of the series, these writings will be modeled into narrative accounts of fictionalized artists whose work, lives, careers, public scandals, and private affairs address the very serious subjects we discuss. The writing can take any format, but we've tossed around the idea of recording scripted interviews with our fictional artist for radio.



Reading/Discussion
- Claire Bishop, Chapter 1 Artificial Hells
- Metahaven, Can Jokes Bring Down Governments
Viewing Together:
- The Yes Men (Video playlist coming from Carriage Trade where they have a show up)


At home viewing: TripleCandie - Siren Bliss
At home Reading: ACT UPs Political Funerals
Writing Room:
- The artist's early life. Portrait of the Artist as A Young (gifted but troubled) Child and adolescent. Early, formational experiences in shame and embarrassment.


Reading/discussion:
- Walter Benjamin: Author as Producer
Reading/discussion:
- Diedrich Diederichsen on Surplus Value in Art


At home watching: The Assassination of Kim Jong Un's brother orchestrated by secret agents posing as a YouTube prank show, https://www.youtube.com/watch?v=4C8Ryd3H9i8
Writing Workshop:
- The Education of an Artist


Reading/Discussion:
- I Can't go on, I'll go on: Platypus
- Giraffe and anti-giraffe:
https://www.e-flux.com/journal/26/67951/giraffe-and-anti-giraffe-charles-fourier-s-artistic-thinking/
Reading/Discussion:
- Charles Olson Mayan Letters


Writing Workshop: Art Works, Mid-career


Reading/Discussion:
- https://monoskop.org/images/5/59/SontagSusan1964Noteson_Camp.pdf
Reading/Discussion:
- Hal Foster, Design and Crime


At home reading: TJ Clark on doubt, heaven, and in Bruegel's painting of the fairytale "The Land of Cockaigne"
At home looking: Goya's Caprichios
Writing Workshop
- Scandal, The blue period, a reflection, a retrospective. Regret…


Writing Workshop:
- Rebirth, A grand finale


MISC ITEMS:


● The Invisible Committee releases The Coming Insurrection at Barnes and Noble, Sephora, and Starbucks, and this comments section
● Sarah Schulman reading Let the Record Show: A Political History of Act Up New York, 1987-1993 on the The Merries public Funeral - MPR Segment
● Tom Otterness - From communal art making to public shame to regret to public art for the masses.
● Lawyer of Tekashi69, The ultimate snitch, and the legal precedent set by his case ("my art is not fiction and can, in fact, be used as testimony to incriminate those around me").
● Lutz Bacher, Do You love Me
● Ilya Kobakov - The Man Who Flew into Space from his Apartment
● Story of Richard Prince's, Spiritualized America
● Peter Wachtler - Bio
● Wakaliwood, ultra-violent african cinema
● Protest Art as Performance and Pranks at the turn of the century (The Futurists, Russian conceptualism) and Maybe worth looking back at Boal and Mossato
● Freud, Jokes and Their Relation to the Unconscious: https://sjsu.edu/people/victoria.harrison/courses/JWSS111/s1/Freud-Joke.pdf
● Prankster contemporary art boys like Darren Bader, Urs Fischer, Cattalan, Michael Portnooy, etc
● David Hammons Snowball sale
● Andrea Fraser
● Bank Collective
● Hito students make a LARP game for the art world
● From Surrealism to Techno Utopianism to 4Chan to the alt right
● Hans Christian Dany, No Dandy No Fun: https://mitpress.mit.edu/9783956795619/
● Joe Scanlan
● Archimboldo
● Ad Reinhard